Another quick post from my New York trip.
Excelsior Glen
After my morning at Watkins Glen (entry in the blog archives here) I scooted over to Excelsior Glen on the Eastern side of Seneca Lake about 2.5 miles from the lower entrance of Watkins Glen State Park. This little gem is on the right side of route 414. If you come to the split where route 79 diverges to the right, you've gone too far. There is room for two or three vehicles directly beside the road. The trail starts on the right side of the stream and weaves back and forth as you head up stream. I passed a tent that looked like it had been there a while, including a fishing pole and frying pan. The trail is well defined at first, but disappears and reappears as you continue up stream. The Finger Lakes Trail (longest continuous hiking trail in NY state) goes along the top of this gorge. There are a few major drops here with smaller cascades between. I saw some nice creepy crawly millipedes at the wetter areas along the sides of the stream bed.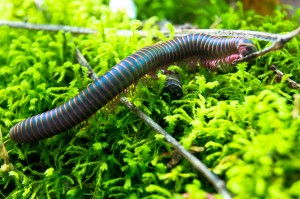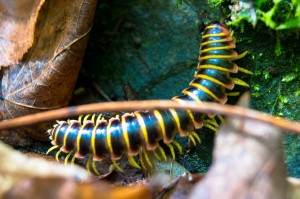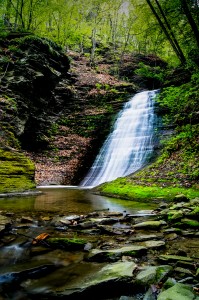 There was one huge drop at the upper end of the glen, but I didn't get any good shots as the lighting was terrible. Rather than go back down the way I came, I decided to scale the left bank of the glen. I wouldn't suggest this option…. The walls were made up of loose mud and clay, make looser by the local rain a day before. The side was so steep and unstable, I started to slide back down into the glen at one point…. not fun…. Once I made it to the top, I found the white blazed Finger Lakes Trail and walked that back to my car. Short walk and completely isolated. If Watkins Glen is crowded, this is one of the alternatives locations to go to.
Hector Falls
Hector Falls is right beside the road on route 414, two miles North of Excelsior Glen. The road bridges across Hector Falls Creek as it dumps into Seneca Lake. Gorgeous spot where I grabbed some lunch from the trunk and took a bit of a break. Well worth the time and since there was no effort….