I had a little bit of vacation time left this fall so I took the week of Columbus day off. That weekend my bud Dan and I took my camper to Black Woods Campground at Acadia National Park. The park is only about 3 hours from my home so I may take it for granted, but it is an awesome National Park that everyone should visit if they have the chance. Black Woods is a semi primitive campground as it has no electric hookups or shower facilities. There are bathrooms and strategically placed faucets for drinking water throughout the campground. There are public showers just outside the campground on Rt. 3 (see map).
I dragged Dan along on my photo adventures and he never complained (at least not out loud). I was somewhat disappointed as I was hoping for peak fall foliage, but it was a bit beyond. We traveled to the Carriage Road bridge over Duck Brook early the first evening. This was my first time to the bridge so did not realize that the setting sun would be directly upstream from the perfect vantage point downstream from the bridge. Oh well, live and learn. I'll be back. I did get a nice shot of the rapids above the bridge shown here. I used a 13 second exposure to really feather out the flow, but noticed upon import into Lightroom that the tree limbs and leaves were very blurred due to the light breeze. I decided to play with some options and completely reduced the clarity and sharpness of all except the stream using the adjustment brush. I like the resulting effect.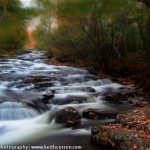 Later the same evening we drove to the Stanley Road off Rt. 3 in Seal Harbor. It is an option for getting into the National Park without having to pay the fee for the loop road. There isn't much stream flow under the bridge. As you can see from the picture, the stream is under the arch to the right. But it is one of the most picturesque bridges in the Park.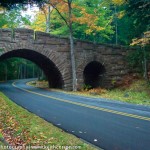 I will add more pictures and destinations as time permits….

View Acadia Photo Ops in a larger map