So…. since it is beginning to get cold here in the North East and the weather is becoming unsettled, I think it's time I go through the back log of photos and travels I have been on this past year. Lots of catching up to do so I will begin with a trip I took to Baxter State Park during the last weekend of September.
We headed out early in the morning on September 21 from my folks camp between Farmington and New Vineyard. I really wanted to get into the park early and over to Roaring Brook campground so Tam and I could hike over the top of Katahdin. We didn't get to the campground until 10:30AM, which is a little late if you want to do the entire mountain and depending on your chosen route up and down. We were intending on taking the trail beside Roaring Brook to Chimney Pond. From there we would go up the Saddle Trail to the top of Baxter Peak. Then we would head across the table land and down the Hunt Trail to Katahdin Stream Campground, which also happens to be the Appalachian Trail. We made it the 3.4 miles or so to the Ranger shack at Chimney Pond at 12:30. The ranger wanted to make sure we knew what we were in for at it gets dark early this time of year. I've been up the mountain multiple times and figured we'd be fine. We headed for the Saddle Trail, which I had never ascended or descended. It's a fine, gradual hike out of the bowl that contains Chimney Pond, but gets extremely steep and gravelly further up. It is the remnant of a land slide so we were very careful not to disturb the loose gravel when possible. Last thing anyone behind us would want is a pile of rocks careening down the mountain toward them. Luckily anyone above us had the same courtesy. We met a few people on their way down. I was glad we were ascending this route as I would not want to descend. It was really strange when we reached the top of the trail and came out onto the relatively flat table land. It was such an abrupt change. One minute we were climbing hand over fist for what seemed to be straight up, next minute we were on relatively flat ground.
Looking at the image below, we ascended slightly to the left.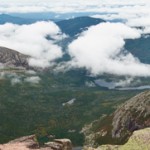 We headed for Baxter Peak, the official highest point in Maine. It is another mile or so to the peak and it doesn't look very steep or far, but looks sure are deceiving. It took us another 45 minutes to an hour to make the final ascent. The wind was howling this day and we donned all of the clothes, gloves, and head gear we brought. There were not too many people at the peak, relatively speaking (I have been there and counted over 50 people in a 20 minute period) so we decided to find a wind break and eat lunch.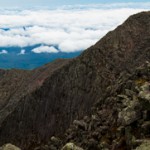 We talked to a couple of people who were ending their journey of hiking the entire Appalachian Trail and headed down. I had forgotten how far the table land stretches as the distance is deceiving, but it is another mile+ to the escarpment and descent to the Hunt Trail.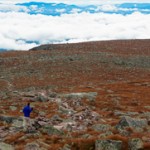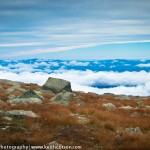 I had also forgotten how grueling the Hunt Trail is for descent. It is very steep and their are boulder scrambles most of the way. I usually love to stop at Katahdin Stream Falls, but was so exhausted that I only stopped for a couple of pictures way below the falls where the trail crosses Katahdin Stream. We met my mom at the Katahdin Steam Campground parking lot at just about 6:30PM. We did 11 miles total over the summit in 8 hours. Not too bad, but weren't we wiped out! If you decide to tackle the mountain in a single day I have just one bit of advice. GET ON THE TRAIL EARLY!