Rattlesnake pool is probably the most colorful pool of water I have seen in the state of Maine. Water in Maine can often be dull, yellowish, or tea colored from tannic acid, like the water found in peat bogs. Not to say that the water quality isn't good (although there are some bodies of water that are still terrible. The Androscoggin river for example) it's just not always clear and colorful. Anyhow, back to Rattlesnake pool. The water flowing into the pool is clear and cold. The pool is a bowl cut in granite over millenia of water churning stones and pebbles.
Access is very easy. From route 2 in Gilead, Maine, turn left onto route 113 (Evan's Notch). At about 8.5 miles take a left onto Stone House road. This changes to Shell Pond road. A couple of miles in there is a gate where you can park. Keep in mind that from here on is private property. The owners have graciously allowed public access, but please stay on the marked trails and leave no trace or we may not be so fortunate in the future. Walk about .5 mile to a grassy field. Keep an eye on the signs and take a left onto Stone House trail. In another .5 mile there is a footbridge on the right with limited views into Rattlesnake Gorge. I actually took nicer pictures inside the gorge than at the pool. Apparently you can swim in pools above and below the gorge falls up stream of the bridge, but there was no one at this spot when we were.
To get to Rattlesnake pool, instead of going over the footbridge, keep walking uphill a bit further. If memory serves it is no more than another .5 mile. There is a small wooden arrow on the right marking the trail to the pool. There was only two people there when we arrived so I was able to case the area for photo opps and set up. A large family showed up shortly after, but gave me time to shoot. We then hung around watching everyone enjoy jumping off the ledges and cooling off. Looks to be a pretty popular place as many more people were showing up as we were leaving.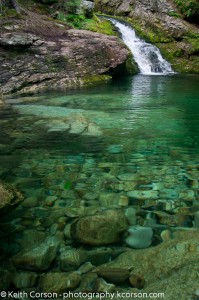 Rattlesnake Pool:  1/30 @ f / 3.5  18mm  ISO 400   Polarizing filter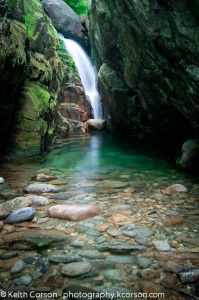 Rattlesnake Gorge:  1.3 @ f/ 9  30mm ISO 400  Polarizing filter