and now…. time permits…..
I was going to just add to my previous post on my Acadia trip, but I wasn't sure if it was appropriate to just add on as if you were the 'one' person 🙂 to read this post, why would you go back to it to read the continuation…. right??? So, here is a new post for the continuing story…
This picture was taken on the carriage road to the West side of Eagle Lake. We mountain biked along this road to the Jordan Pond area and back to our starting point via Bubble Pond. The road seemed to go uphill forever with multiple switch backs and small wooden bridges over this same stream. Near the beginning of the carriage road a large buck ran across in front of us and stared back through the woods for at least 5 minutes. I didn't have my 300mm zoom attached so we just watched. When I realized that he was just going to stand there, I finally pulled out the zoom and attached to my camera body, but by then the view was too obstructed. I have had many opportunities for good close ups, but only having my 18-55mm attached. I now realize why many people keep two camera bodies handy; each with a different lens attached. Maybe when I have $$ in my pocket that I have nothing else to spend it on.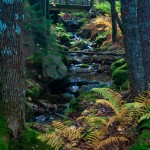 We spent the rest of the day biking a decent loop (shown in the map below) and shooting pictures along the trail. Had an awesome time spending three days at Acadia, even though the weather wasn't the best and the foliage was beyond peak. I hope to get back this winter to ski and/or snowshoe on the carriage trails and get some winter shots.

View Acadia Photo Ops in a larger map