Maine 100 Mile Wilderness
During the last week of May, my niece (Katrina Brace) and I began our journey to finish the Maine 100 mile wilderness. We started north bound last year at Monson and hiked the first 30 miles to Gulf Hagas. This year we finished off the remaining 80 miles to the base of Katahdin.
Background on the 100 Mile Wilderness:
The 100 Mile Wilderness is called such as there is no access to resupply from retail merchants anywhere along this section beginning at the town of Monson and ending at the small variety store at Abol Bridge just outside of Baxter State Park. There is limited road access throughout for possible resupply points, but all are remote and should not be relied upon. Most publications recommend carrying ten days of food for the average hiker. It took us nine days over the two years for us to complete this section, so I guess that puts me into the 'average' category.
Day One
We began Saturday, May 23 where we left off last year; the West Branch of the Pleasant River at the bottom of Gulf Hagas. Seven days of food, 50lb. pack, boots that I already knew had given me problems, but thought I had a handle on it. It was 37 degrees F; below average for this time of year even in Northern Maine. Fording the river was easy as we had very little rain after the snow melt run off this Spring. Traveling toward Gulf Hagas brook, Katrina jumped a moose, but only saw the beast's but. It was cold enough that any precipitation that fell was small hail pellets. We both hiked most of the day with light jackets; very abnormal for me as I heat up quickly and sweat profusely if not ventilated enough. The first 5+ miles to the Carl A. Newhall lean-to were uneventful. The trail follows Gulf Hagas brook very closely and is very picturesque. We ate a quick snack at the lean-to and began the ascent of Gulf Hagas Mountain, the first of four peaks this day. During the ascent we met our first hiker; a SoBo (South Bound through hiker) that had hiked North to Tennessee and come to Maine to flip flop and head South. He told us that although Baxter State Park was open, they were not letting anyone hike Katahdin, because of the snow pack still on the mountain. Our plan was to scale the Hunt trail to Baxter Peak on our last day. Hopefully it would open before we reached there.
Gulf Hagas Mountain
Our first encounter with snow on the trail. I didn't expect snow, but there was only a couple of patches. Kinda cool (no pun intended).
West Peak
After Gulf Hagas Mountain, we continued up to West Peak and the snow started getting deeper; 3 to 4 feet in places. In places it was hard packed on the trail so you could walk on top of it, then without warning you would break through and be up to your calf or knee. Then the blow downs started. Evergreens were blown across the trail everywhere. In some places there were so many blow downs that we could not locate the trail. Luckily a few other hardy hikers had been through and we could follow their melted out boot tracks. It was exhausting and in places we only averaged 1 mile an hour.
Hay Mountain
More snow, more blow downs. UGH!
White Cap Mountain
The last of the peaks today and the last of high elevation for the entire trip. White Cap is approximately 3,700 ft. elevation so is not a big mountain, but on a good day would be an awesome place to stop for lunch as the views are outstanding, but today was cold and the wind was blowing. The snow disappeared on the top as it's completely exposed and gets good sun all day, but we didn't stay long. A couple of pictures of Katahdin (our first sighting) and a snack and we were off to get below tree line for some protection from the wind. More snow, more blow downs! It was horrendous and completely demotivating. Luckily, where trail crews that built steps into the mountain, all the snow had melted off, but where there were no steps there was more snow. Slow going…..
We finally saw the roof to the lean-to at between 6:00 and 7:00 PM. 9-10 hours for 13 miles….. slow for us. I was exhausted; not sure about Katrina, but I'm sure she was tired. The lean-to sits in a ravine between two shoulders on the back of White Cap. Logan brook is a small stream following the ravine with little cascades. Great spot to fall asleep to the sounds of water. We cooked dinner (mashed potatoes, chicken, and gravy) and immediately got settled for bed. Sore spots on my heals, but I had taken precautions earlier and put on patches of mole skin with duct tape for extra adhesion. We had most, it not all of our clothes on, with jacket, hat, gloves, inside our sleeping bags, but were warm and slept good.
Day 2
Breakfast of coffee and instant oatmeal (which Katrina now likes after surviving her freshman year in college). I always use Starbucks Via instant coffee as it's the best instant coffee I have found and is still within a 'reasonable' price range. Our initial thoughts were to make it a 19 mile day and reach the Antler's tent site on the shore of Lower Jo-Mary Lake. The morning was overcast as we headed out, but we quickly saw breaks in the clouds with blue sky poking through. The first couple of miles after the lean-to parallels Logan Brook on the edge of a steep ravine overlooking the brook. The trail was in good shape considering what we experienced the first day. We passed a little used dirt road early in the morning and soon after forded the East Branch of the Pleasant River.
Little Boardman Mountain
After a touch up for my feet, we headed off to Mountain View pond and Little Boardman Mountain. We ran into a few blow downs on the way up Boardman, but not bad. It got really bad on the way down. Forests of beach trees that were blown down all over the trail. Beaches are very gnarly and the limbs are nothing close to straight. It was brutal getting around them and it really discouraged us both. I was beginning to think that our entire hike would be blow downs. A short distance south of the Kakadjo B-Pond road we met a trail maintenance crew clearing the blow downs. We gave them an indication of what they were up against south bound and kind of wished we were a day later as most of the blow downs on this section would have been taken care of. The lead maintainer told us that she heard Katahdin would not be open for summiting until the following Monday. Since this was Sunday, May 24th and we expected to be picked up in Baxter State Park on Friday, May 30th, it didn't look like we would be summiting. I decided to call our pick up when we could find a signal and determine the schedule for our last days of the trip.
Copper Brook Falls
We stopped for a snack and a break at Crawford Pond. Sandy beach, nice breeze, sunny day. What more could we ask for?
Shortly after our break, we reached the pond outlet and the remains of an old dam. Fortunately we were able to walk right across and didn't need to take our boots off.
The trail began a flat, slow descent through hard and softwood forests. It was perfect walking, but we were both worn down from navigating blow downs yesterday and all this morning. At around the 11.5 mile mark we came upon the Cooper Brook Falls lean-to. Our initial intention was to eat lunch here and plod on another 8 miles to Lower Jo-Mary and the Antler's tent site. Once we took our packs off and began eating a snack, I suggested that we stop here for the night at we were wiped out, and after all this trip was supposed to be enjoyable. Katrina agreed and we unpacked. I have an old (and I mean old) Camping Gaz cook stove that has had valve problems for the past couple of years, but I didn't want to buy another stove unnecessarily. During dinner cooking I turned the stove down to simmer and it went out. Upon relighting it, flames shot out all over and under the burner and near the valve connection. Couldn't get it to stop no matter what I did so we retired the stove and from then to the end of our trip we cooked on the open fire. We had the lean-to to ourselves and I think we both slept great with the brook and falls right near by.
Day 3
Getting into the routine, we got up early, had coffee and oat meal, and headed out with Nahmakanta Stream Campsite as our destination. We were making good time with Katrina in the lead when a vein in my nose decided to pop. I have had nose bleed problems most of my life. Seems to be dryness, heat, over exertion, or any combination that sets one off. This day was hot and at the speed we were going, my heart rate was up. Luckily we were near a bog and I was able to get some cool water to slow the bleeding enough that it would clot. This was one of the few days that we met anyone on the trail and the guy we saw must have wondered what was up with a bloody rag tied to my backpack. He didn't ask though….
Antlers Camp Site
We made the Antlers Campsite on Lower Jo-Mary for lunch. This was where we were aiming to stay last night, but didn't make it. It would have made a wonderful place to stay. There were half a dozen tenting spots, a nice privy, and it was right on the edge of the lake. Unfortunately while we were there for lunch, the black flies were terrible.
Potaywadjo Spring Lean-to
After lunch at the Antlers campsite we skirted the Northwest end of Lower Jo-Mary Lake and along up to Potaywadjo Ridge. I discussed options with Katrina for the ending of our trip. We could get picked up on Thursday, or I would hike a portion of Katahdin with her on Friday, but she would have to summit alone. My feet were in no condition for steep terrain. She decided that she didn't want to summit alone so we would try for a Thursday pick up. I was able to get a cell signal here and decided to call our ride (Mom) to let her know that we had decided not to summit Katahdin and ask if she could pick us up at Katahdin Stream campground on Thursday instead. I was able to leave a message.
We stopped at Potaywadjo Spring lean-to for a snack and headed out shortly after. Just past the lean-to we crossed a bog bridge next to the spring. The spring was HUGE! The water boiled up through the sandy bottom of a pool and created a good sized stream. Very cool!
Nahmakanta Stream Campsite
The going wasn't too bad the rest of the day, but by the time we reached Nahmakanta Stream Campsite I was beat. After this 15.5 mile day my feet were really hurting with continued blisters. I soaked my feet in the cold Nahmakanta stream while we filled up our water bags and jugs. Mosquitoes were bad, but bearable after we got a smudge going to cook supper. A SoBo came in and scouted a place to hang his hammock. He was looking for a cell signal, but I couldn't get one here so he was out of luck. He was averaging 30 miles a day at this point. Way out of my league. Our first night in the tent and we no sooner got in and settled for sleep that the rain came in. It rained all night, but we stayed dry.
Day 4
Early AM I got up to grab something to drink and a Cliff Bar in the drizzle. No hot coffee or hot breakfast today. We packed up in the rain and headed for Rainbow Stream Lean-to, 14.5 miles away. As we passed by the sleeping SoBo guy, I couldn't help but admire his sleeping set up; hammock with a mesh cover and rain fly, smaller gear hammock below for gear that could not stay on the ground, and all other gear on the ground under both hammocks. Even though it rained all night, he and all of his gear looked dry. Great set up!
Wadleigh Stream Lean-to
As we headed out with our light rain gear on, we passed by a couple of tents just to the North with presumably SoBo hikers sleeping away the wet morning. The rain stopped shortly after, but we still kept our waterproof gear on as the trees were still dripping. It was pretty smooth going to Wadleigh Stream Lean-to. This was a nice spot beside a washed out stream among hardwoods. We had a snack and began the steep ascent of Nesuntabunt Mountain.
Nesuntabunt Mountain
This would be the last real 'mountain' to traverse on our trek to Katahdin and what a mountain it is. While only 1500′ +/- and a total elevation gain of less that 1000′, this steep uphill destroyed me. With still a pretty heavy pack, soaking wet woods, and increasing day temperatures, I huffed and puffed and sweated with the best/worst of them. If I wasn't so worn out I might have been able to enjoy the alternating steep ascents and small hanging valleys. We finally reached the top overlooking Nahmakanta Lake and stopped for needed water and snack. We were able to get a cell signal here so called my mom and made sure she would be available to pick us up at Katahdin Stream Campground on Thursday afternoon . From our vantage point we could see the entire length of the lake as well as our path for most of the afternoon.
Rainbow Stream Lean-to
After resting we headed out to polish off the remaining 6 miles to Rainbow Stream lean-to. Somewhere after the mountain descent (or along it, I don't remember now) I slipped and bent the end of my hiking pole to a 90 degree angle. Upon attempting to bend it back, I broke the bottom 3 of 4 inches off. Luckily there was still plenty of length to extend and still make it usable. We ate lunch at the side of Crescent pond in the full sunshine and enjoyed a light breeze. Shortly after we came upon the edge of Pollywog gorge and stream. The trail follows a ledge high above the gorge for at least a mile. Unfortunately there is not much of a view into the gorge from the AT. We crossed a road and bridge over Pollywog Stream and followed Rainbow Stream for 2 miles to Rainbow Stream lean-to. Along the trail were many cascades and waterfalls. It would be a wonderful place to photograph, especially during fall foliage, but at the time I had no desire to appreciate the scenery. I was dead tired. We arrived at the Rainbow Stream lean-to and what a place! Beautiful location beside the stream with a natural platform to the North of the lean-to for tents. Unfortunately the black flies were once again pretty bad here, especially at the edge of the stream.
There were five people and a dog at the lean-to when we arrived. They were a group maintaining the trail consisting of the lead maintainer, his son and daughter, the daughter's fiance', and a friend. They had come for a couple of days for their Spring maintenance trip. There would be seven plus a dog in a lean-to meant for six people. The fiance' was fishing the brook and we saw him pull out a couple of trout. Shortly after, they all headed out for the afternoon to cut brush and blow downs.
Katrina and I rested for a couple hours (glad I always bring a paperback along) and fixed up dinner. The maintainer group came back in the early evening and they built a fire and cooked their dinner. The family friend had a new Pocket Rocket that he didn't know how to use. He didn't realize that the valve was open when he began screwing on the fuel container and it began blowing propane/butane in volumes right in front of the fire! We were all lucky it didn't ignite before he figured out how to turn off the valve. During conversation we found that they drive to a location not far from the back side of the lean-to and haul all of their maintenance gear in that way. From there they would go North one day, return to the lean-to, and go South one day. It was good to find out that there is a short cut to the lean-to. I'd like to come back here with the grand kids some day.
A father/son SoBo duo showed up at the lean-to and decided to pitch their gear on the natural platform near the lean-to. The father was using a hammock set up and I was interested to hear about how he liked it. He said that he had been using hammock systems exclusively for a while and it was the best sleep he had ever had in the woods. He had even used it in sub zero temps and said it was perfect as long as there was enough insulation between you and the hammock. I really have to look into these systems more….. It was warm enough that I slept on top of my sleeping bag most of the night, in a lean-to made for 6, but with 7 people and a dog. It worked out fine.
Day 5
Routine: out of bed, make coffee, make oatmeal, eat, clean up, pack up gear, hit the trail. We quietly prepared as the trail maintenance group were still asleep after a hard day of work. Katrina and I headed toward the Rainbow Deadwaters. The fiance' in the group had stashed a small inflatable boat at the deadwaters to use fishing. The trail skirted the West side of the entire 5.5 mile length of Rainbow Lake. The lake is crystal clear and we could see granite sand and boulders easily in 20-30 feet of water. Most of the morning we could hear and see sea planes coming into the lake to transport sports men as that is the only method of getting to the lake other than hiking. The sun came out as we ascended Rainbow Ledges and as usual, by the time we reached the ledges, I was a sopping mess. We relaxed at the top with a quick snack and pictures of us in front of Katahdin.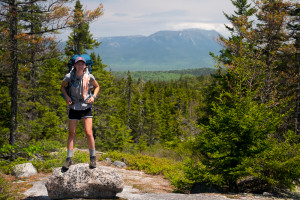 Hurd Brook Lean-to
From Rainbow Ledges, the trail was a steady downhill slope to Hurd Brook lean-to. We rock hopped a stream (the water source for the lean-to) just before the lean-to. I fell in….. Oh well, only one wet foot. I also got a pole stuck in the mud and pulled the handle right off the top. Putting the pole back together and shaking my wet foot, we finished the couple hundred feet to the lean-to. We unloaded our lunch sacks and consumed lunch at the lean-to. A care taker showed up while we were eating and we discussed what her duties were. She was only here for a couple weeks to give the SoBo's education. Sometimes much needed education about leaving no trace, what to do with body waste, all the out door good stuff. She kept looking a Katrina oddly and finally said, "I recognize you somehow. I've seen you before." She didn't recognize me, but she did Katrina. We finally figured out that she and a hiking friend had met us the year before between Monson and Gulf Hagas. She remembered Katrina, because she was so impressed with her sure footedness. They were sitting on the edge of Thompson brook contemplating how they were going to get across. Katrina and I came along and we never stopped to access the route across the brook. We just did it. They were so impressed that they gave us a standing ovation. Funny how small the world is.
Abol Bridge and Abol Pines
When we started this day, we weren't sure if we were going to stay the night at Hurd Brook or move on, but since it was only around 2:00PM, we moved on toward Abol Bridge, the end of the 100 mile wilderness and the start of Baxter State Park. We had a couple of options once at the bridge: find an open pay site at Abol Bridge Campground (the only private campground on the A.T. in Maine) or find an available lean to at the self serve Abol Pines State sites. We finished off the 3 miles or so to Abol Bridge and decided to check availability at Abol Pines first. We found a magnificent lean-to available for $8.00 pp/night right on the bank of the Penobscot River. Looking upstream toward Katahdin, we could see black clouds rolling in from the West. After unpacking and washing in the river, we gathered up enough fuel to cook supper. Knowing that rain was inevitable, Katrina also gathered up enough branches and pine cones for morning cooking and put them in a dry location. I remember this dinner for some reason: Caribbean rice, ramen noodles, and canned chicken. It was awesome! Not long after dinner massive thunderstorms rolled in. We stayed dry in the lean-to and watched the lightning show. One bolt struck directly behind the trees on the opposite side of the river! Glad we were on the other side. All in all, the perfect spot for our last night!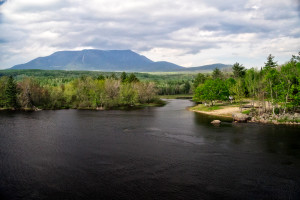 Day 6
Our last day on the trail with 9 miles to go. We slept in late. For us that meant 'till 6:30 or 7:00AM. We took our time with breakfast and packing and didn't head out until around 9:00AM. We only had 9 miles and we were meeting our ride (my Mom) at Katahdin Stream campground by 4:00PM. Packed and ready, we headed out from Abol Pines and back on the trail. A guy scoping the river for a rafting group was nice enough to take our picture.
Daicey Pond
The day began with some overcast and threatened rain. We walked over the Golden Road and the Baxter State Park winter parking lot, heading back to the AT. We no sooner got back on the trail and crossed over the border of the park when the mosquitoes descended! Worst on the entire trip! We quickly dowsed ourselves in bug dope and continued on along the banks of the Penobscot River. The trail parallels the North bank of the river for about 4 miles before turning away from the river and following Nesowadnehunk stream. At this point it began to rain, but not a torrent. Just enough to cool us off. We put on our rain gear and came to a side trail meant to cut off a portion of the AT during periods of high water. The AT crosses over Nesowednahunk stream and then crosses back further up stream. Since the water was already high, it was raining, and I was pooped, we decided to take the cut off to avoid a double crossing. The trail continues uphill and joins the stream again near Indian Pitch. Pushing on we passes Windy Pitch, Big Niagara Falls, and a side trail to Little Niagara Falls. We knew we were coming close to Daicey Pond Camps when we began seeing day hikers along the trail; Some definitely not prepared for wet weather. We kicked into high gear and made it to the Daicey Pond road for an early snack. Luckily the rain stopped while we were eating.
Katahdin Stream Campground
After our snack we packed up again and headed out for the final 2.5 miles to Katahdin Stream Campground. No rain, but my feet were wrecked and every step hurt. We passed Grassy Pond. When my kids were small we fished here with my Mom and Dad while staying at Katahdin Stream Campground. So much had changed in the 20 years since that it was unrecognizable. Things change so much over time (or is it just that memory changes bit by bit until what you remember isn't the reality of the experience?). Not long after, we reached the tote road on the West side of the park with Katahdin Stream campground entry just across the road! We walked into the campground, dumped our gear, and I collapsed on a covered picnic table with a spectacular view of a snow covered Katahdin in the background. It was just about 2:00PM. Off with my boots and on with the bug dope. The black flies were terrible here! We had just started to relax with another snack when my Mom showed up early at about 2:30PM! Perfect! We loaded our gear, washed some of the funk off, and headed to Millinocket for meatball subs at Subway!!!
End of a Great Trip
I've been hiking since I was 13 and this was the longest continuous hike, with the most mileage and heaviest pack that I have ever done. Would I do it again? Probably not this section, but it's finished and I would definitely go this distance elsewhere. With the world as large as it is and all of the wonderful places to see, why would I want to do this again? I don't know… maybe someday, but I'm not getting any younger. It really gave me an insight as to what it must be like to hike the entire AT. You get into a daily rhythm of eat, hike, eat, hike, eat, sleep, repeat. I don't know if I'll ever do the entire trail, but my buddy's son is doing it now, and Katrina talks about it. What an adventure it would be (mind game more like it).