4 Days In Baxter State Park
Last week Tammy and I took a long awaited 4 day, 3 night hiking trip into Baxter State Park. We've been going there off and on for years and I thought I knew about most locations in the park. A few months ago I came across a blog post discussing Davis Pond, which I knew nothing of. The pictures looked beautiful and from a map it didn't look too difficult to get to. You could either go up over Katahdin and down into the Northwest Basin or you could hike up the valley from Russell Pond parallel to Wassataquoik stream. I really wanted to see this place that I hadn't explored, so we came up with a couple of itinerary options and submitted our application form.
BSP Reservation System
BSPs reservation process can be a little confusing depending on where you plan on staying in the park. If you stay in the easily accessible locations (Roaring Brook, Katahdin Stream, Abol, Kidney Pond, Daicey Pond, etc.) you can reserve directly online using their sliding 4 month window. Remote site reservations (the ones we were going to) can only be made by mail or phone. Our first choice itinerary was Chimney Pond for night one, Davis Pond for night two, and Russell Pond for night three. I was ecstatic that we received confirmation for this itinerary. I wasn't concerned much about Chimney or Russell Ponds, but Davis has only one shelter and it was going to be ours!!!
Just a little history on the reservation system used in BSP. Years ago when I first started going to the park, their reservation system was pretty basic. On January 1st the reservation system was open for the entire year. It was hell to get the weekend and location that you wanted as it was a free for all from day one. It was by mail or in person only and every year there were people waiting in line in Millinocket on January 1st. In recent years they changed it to a sliding 4 month window where you can only make reservations 4 months in advance, with the exception that after some time in June, the rest of the season is open for reservation. Many locations in the Park can be reserved directly from their website. Some people hate the new system. I really like it as it's worked out much better for me than the old system.
My History With Baxter State Park
I was born and grew up in the Western Foothills of Maine with some of the tallest mountains in Maine right in my back yard. I started hiking in my early teens and introduced my wife Tammy (yes, I only have one) after we were married in my early twenties. I had never been to BSP and looking back, I'm not sure if I was even aware that the Park existed. I had heard of Mt. Katahdin, but it just seemed so far away (about three hours travel time for me). At the time I was working at Bass Shoe in Wilton as a technician and my boss had been an avid hiker in his youth. We had a department gathering after work at my boss' house and after everyone else had gone home, he entertained Tammy and I with photographic slides he had taken years before of Katahdin and Baxter State Park (he just loved Tammy… I don't think he liked me anywhere near as much 😉 ). Yeah I know… 'slides'? Some of you have probably never seen photographic slides. It was a long time ago…. I was just amazed at how different Katahdin looked compared to the other mountains I had hiked in Maine and New Hampshire. I was struck by the sheerness of the cliffs, the abrupt way the mountain rose, and how the peaks wrapped around Chimney Pond. I had to go there!
Mike McInnis (a co worker at the time) and I headed to the Park for a weekend in September or October somewhere around 1990 (if you look hard enough you can find some pretty bad pictures of us in the Park during the 90's on Facebook —- Thanks Mike). It rained the first night at Abol campground. We used mescal to get our fire lit (what a waste of mescal). The next day we headed to Roaring Brook and hiked into Chimney Pond. From there we hiked up the Dudley trail to Pamola peak. I remember Mike pulling a can of beer out of his pack. What a welcome surprise! We hiked back to Roaring Brook via the Helon Taylor trail. I remember it being a long day and we still had to drive home and get up for work the next day….. but I WAS HOOKED!! It was absolutely fantastic. Since that time I have been going back almost on a yearly basis and some years multiple times.
Chimney Pond – Day One
Historically the plans I have in my mind are usually overly optimistic with regard to what I want to accomplish on a daily basis; distance, location, etc. Tammy will attest to that. My thought was to get to the Park by 8:00AM, to Chimney Pond via Roaring Brook by noon, drop our packs at our shelter, pull out the day pack, and head up the mountain to hit Baxter Peak and cross the knife edge. As I get older I realize that these trips aren't all about me. If I was alone it would be, but when Tammy and I hike as a couple it's about us both enjoying the trip (my how I've matured. there may be hope for me yet).
What really happened was that we didn't make the gate until 9:00AM so that would put us at Chimney Pond later than expected and I really didn't want to rush up there. We were here to enjoy and take it all in. We made it into Roaring Brook around 9:30AM and pulled on the packs. I left the cell phone in the car as it is my only sense of time and I didn't want to care about time at all over the trip. If it's light, it must be time to get out of bed. If it's dark, it must be time to go to bed. The packs were heavy as we had our cold weather clothes and winter sleeping bags, but mine was setting comfortably. You never know what the weather will bring to the mountains in October. We were pretty slow getting into Chimney Pond, due to the heavy packs and it was the first time Tammy carried a full pack this season. We stopped at the usual spots on the way including the short side trail to Basin Ponds for views of the North Basin and Hamlin Peak.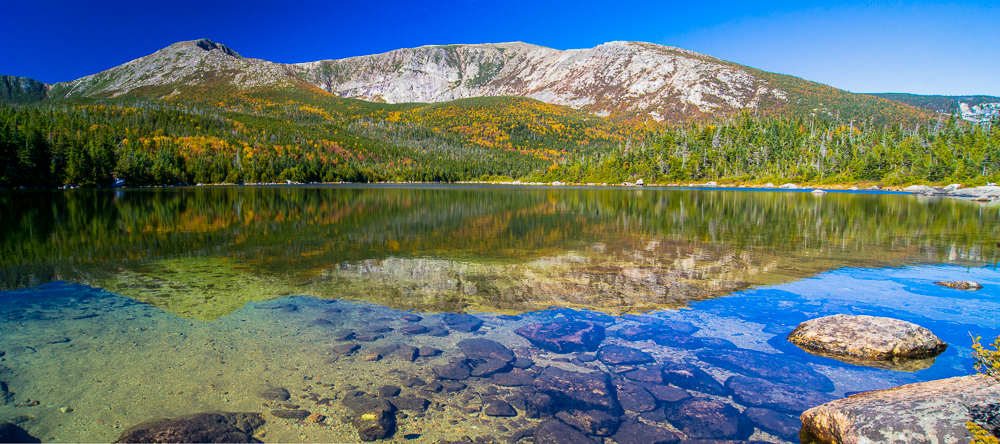 We arrived at Chimney Pond sometime early afternoon, located our shelter, and dropped our gear. I really wanted to hike up the Cathedral trail to Baxter peak, then the Knife Edge, and back to Chimney Pond via the Dudley trail, but my left knee was feeling a little odd and Tammy back was tired (we later readjusted her pack for a better fit). I stopped in at the Ranger cabin to sign in and he offered to let me borrow a book about the history of Katahdin to browse. I accepted it and I think I'm going to buy a copy (link to Amazon). He also noticed that we would be spending night two at Davis Pond and assured me that is was a 'little slice of heaven'. We then opted for a lunch of pita bread with hummus, tuna, lettuce, and tomato, then a quick nap and after hung out at Chimney Pond waiting for the sun to drop behind the ridge.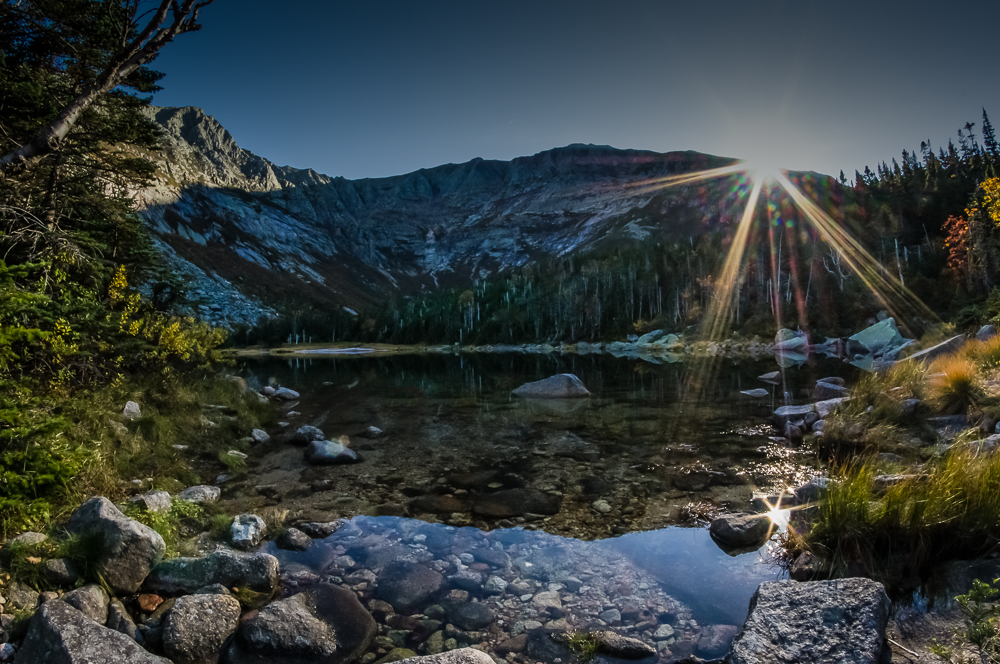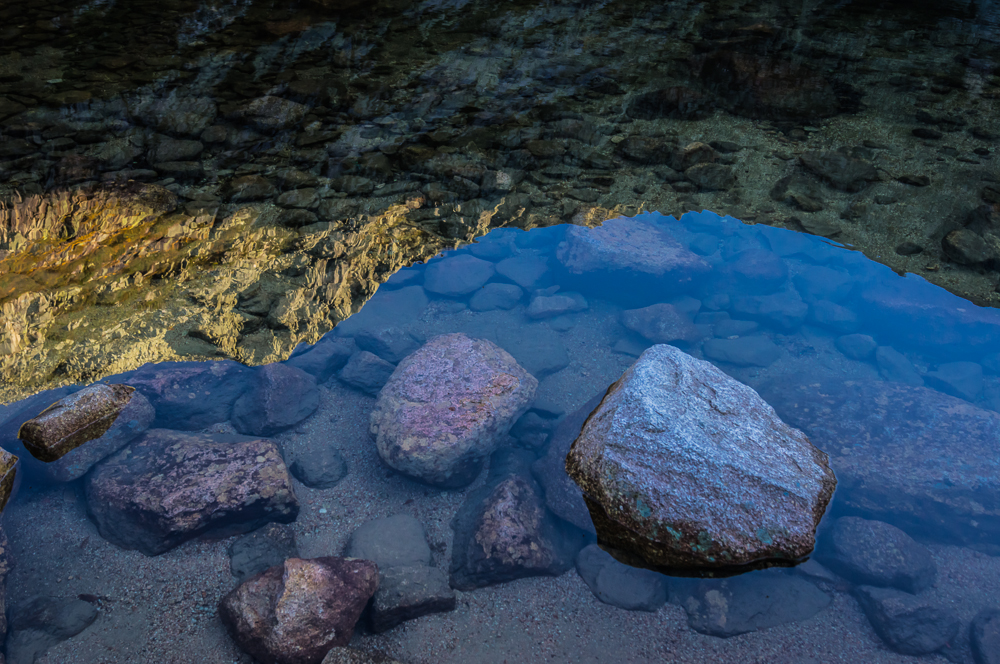 We had an early dinner of stuffing, canned chicken, and instant gravy…. surprisingly tasty, and crawled into our sleeping bags early with the plan of starting early in the AM.
Davis Pond – Day 2
We woke up early the second day and ate our usual of instant oatmeal, pop tarts, and coffee. I can't live without coffee in the back country and the Starbucks Via packets are the best instant coffee option I have found. Almost forgot, this was all after I worked my food bag off the bear cable provided at Chimney Pond and dropped it from 10 or 12 feet off the ground. Busted a plastic container that had a couple of tomatoes and exploded a couple of apples.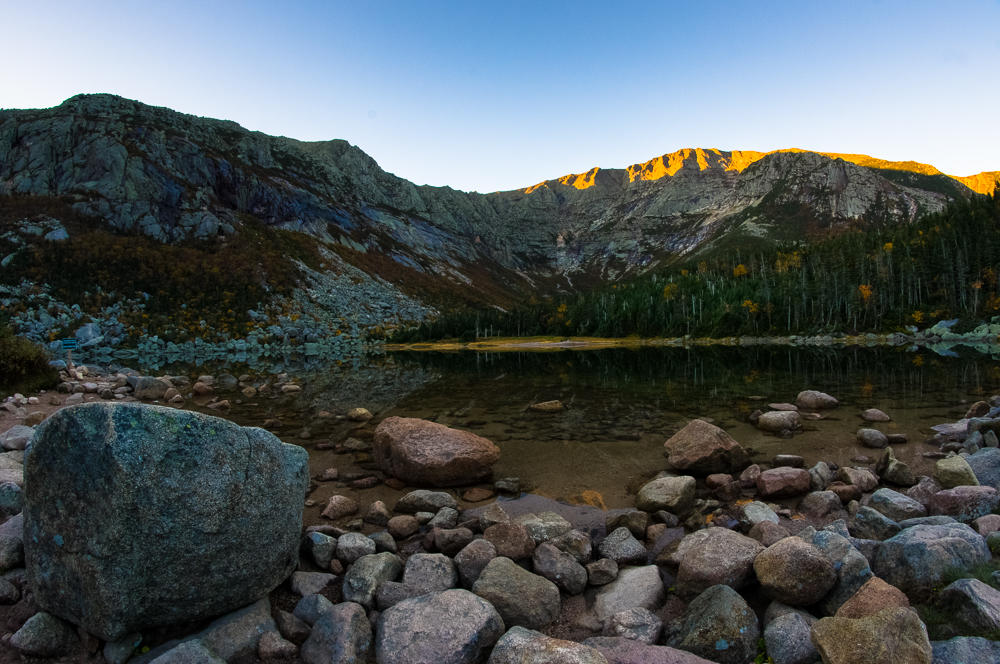 As we were eating breakfast, we noted that one group staying at the campground was quite noisy. I realize that everyone has the right to enjoy their experience how they want, but they should also give courtesy to those around them. It was just after sunrise and some people weren't even out of their sleeping bags yet! I go to the back country to experience solitude and peace. If people want to hoot and holler I think they should go to a campground that is vehicle accessible. Anyhow…. I digress…
We packed up after breakfast and decided to summit the mountain via the Saddle trail. Our other option was to go back a ways toward Roaring Brook and go up over Hamlin peak. We had been up Saddle before so thought that would be a better route as it was shorter and we knew what we were in for. The plan was that if we weren't too beat up at the top of Saddle, we would stash our packs and head for Baxter peak before continuing on our path to Davis Pond.
The Saddle trail is about 1.2 miles from Chimney Pond to the top of the saddle with the first mile consisting of some boulder scrambling and the last .2 consisting of the slide, which is sand and loose rock. We were pretty slow as this was the first time either of us had climbed the mountain with full packs. There were a few people ahead and behind us, but not many were out and about yet. We wanted to very careful not to dislodge any loose rocks onto those behind us and I was hoping that those ahead of us were taking the same precaution. The really cool thing about this trail is that the last .2 mile on the actual slide section is pretty vertical and stays that way to the top, yet once you reach the top it just levels off abruptly. There's no gradual change, it's just vertical….. horizontal.

We were both tired so decided not to tackle Baxter peak and headed off toward Hamlin and the Northwest Plateau. The top of Katahdin is unique in that is is almost entirely flat, not level, but flat. It looks like someone took a huge knife and just sliced the top off. We walked to the next junction a mile away where the North Peaks, Hamlin, and Northwest Plateau trails converge. There is a small spring at this intersection that was fully flowing. It's hard for me to understand how water can be pushed so far up a mountain without finding an alternative location to flow at a lower elevation. Anyhow, we pondered dropping the packs here for the .2 mile summit of Hamlin, but once again decided to push on.
The Northwest Plateau extended from this point for another mile before dropping into the Northwest Basin. It was cool to be on this end of the plateau as I had never been on this part of the mountain. We had always headed West once summiting, usually toward the Hunt trail (Appalachian trail). We stopped for a breather and a snack, took in the view of the Northwest Basin, and headed steeply down.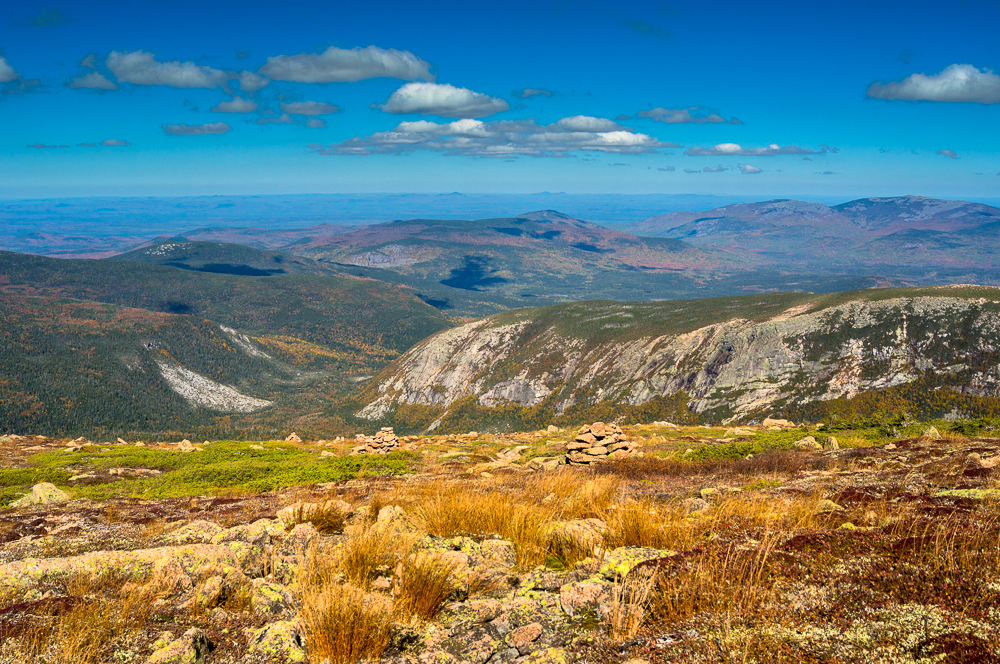 Immediately the trail runs through a boulder field that is pretty steep, so we went slow and careful. Shortly after, it enters the evergreens and becomes common with a brook. It is STEEP, WET, and SLIPPERY! Even though we had a very wet spring, I would guess that this trail is always wet and slippery. We proceeded very slowly and deliberately as this is not an area that you would want to get injured. Of course I wouldn't want to get injured at any location, but this is very remote and help is not close at hand. I want to be very clear that this may be the most difficult trail I have ever hiked while carrying a full pack! After what seemed like hours of nearly vertical hiking we could see Davis Pond below us. I also noticed a double waterfall through the trees on the mountain side of the basin! I had never seen a picture of these falls before!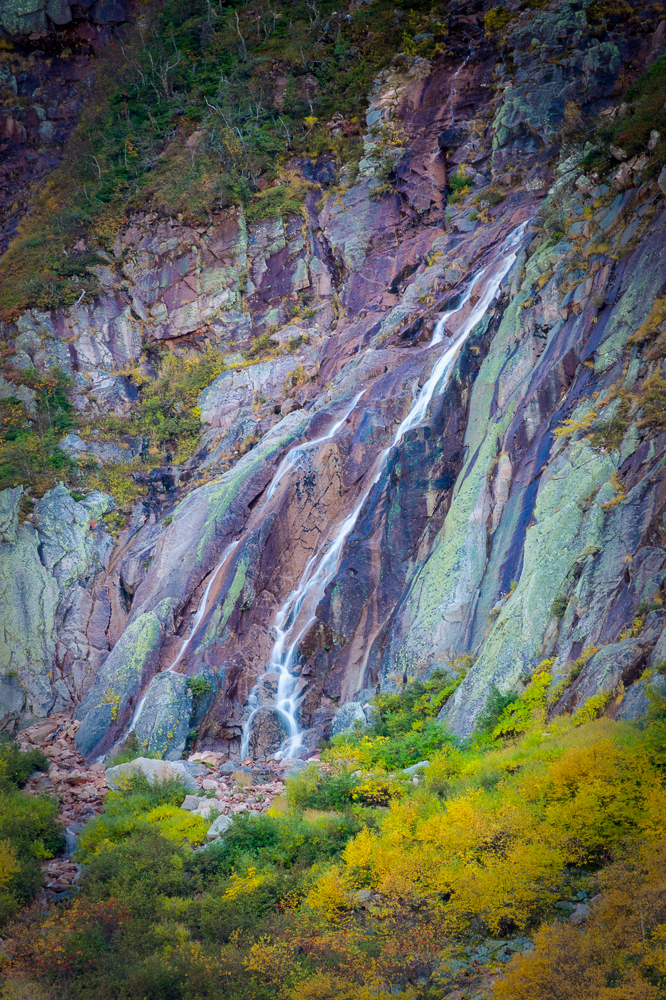 After more steep downhill and a bit of complaining, we reached the Davis Pond shelter! It is an absolutely beautiful location and the pond is picturesque, but even though it is a 'little slice of heaven', it was hell getting there! We had hiked only 4.5 miles this day, but it took us the better part of the day to do it.
Davis and Cowles ponds are both nestled in the Northwest Basin but the basin is not at the bottom of the adjacent valley. It sets up into the mountain similar to the way Chimney Pond nestles into the base of the South Basin. It was so peaceful and quiet as we had the place all to ourselves! I found time to soak my feet and rinse some clothes while Tammy rinsed the sweat out of her hair ;-). (The falls in the picture above can be seen in the distance to the far right of center below)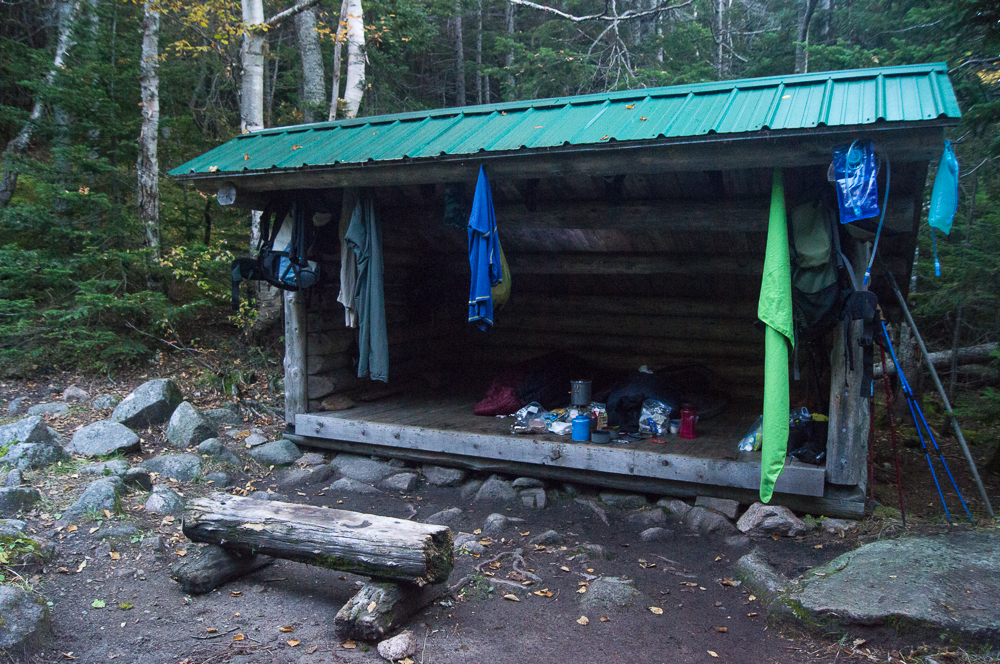 Dinner this evening consisted of rice, canned chicken, and a Thai sauce. It ended up being more like a soup and was it spicy! Tammy had to take her time finishing it off.
Russell Pond – Day 3
This morning we woke up as usual with the approach of dawn. I had really weird dreams about alien lights in the sky. Maybe we were abducted overnight? Maybe too much Chartreuse the evening before (my drink of choice if I feel like packing any). We headed out from the Davis shelter early and I remember telling Tammy that we were in for some more steep down hill before we leveled out in the valley along side of the Wassataquoik. We immediately headed uphill before leveling out with a nice view of Cowles pond. Immediately after we were back in the steep, wet, slippery down hill. This time was actually worse as there was still a stream in the trail, but there were no individual rocks to step on. It was all a continuous sheet of granite making it hard to get reliable traction. Toward the bottom of this section the stream headed off to the right of the trail, merging with another. It created a beautiful waterfall right beside the trail.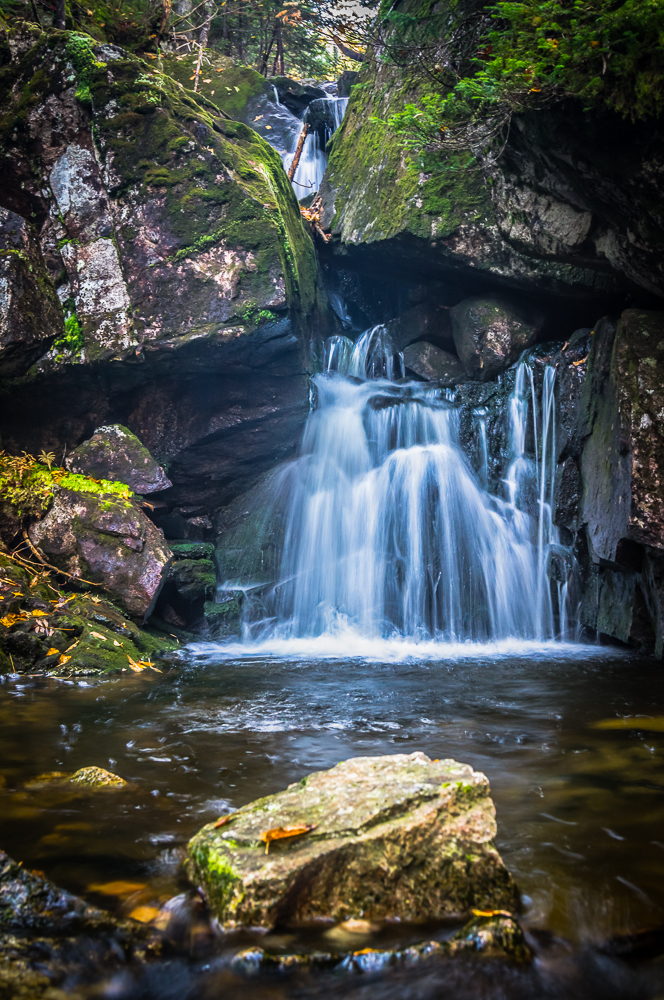 After some distance of steepness, we reached the stream that empties from Davis and Cowles. The trail is part of the stream bed here and at times was hard to find the trail markers, but it soon took us into the woods parallel to the stream. It continued slightly down hill to a crossing at Wassataquoik stream. We took off our boots and socks and I packed our gear across with Tammy following shortly after.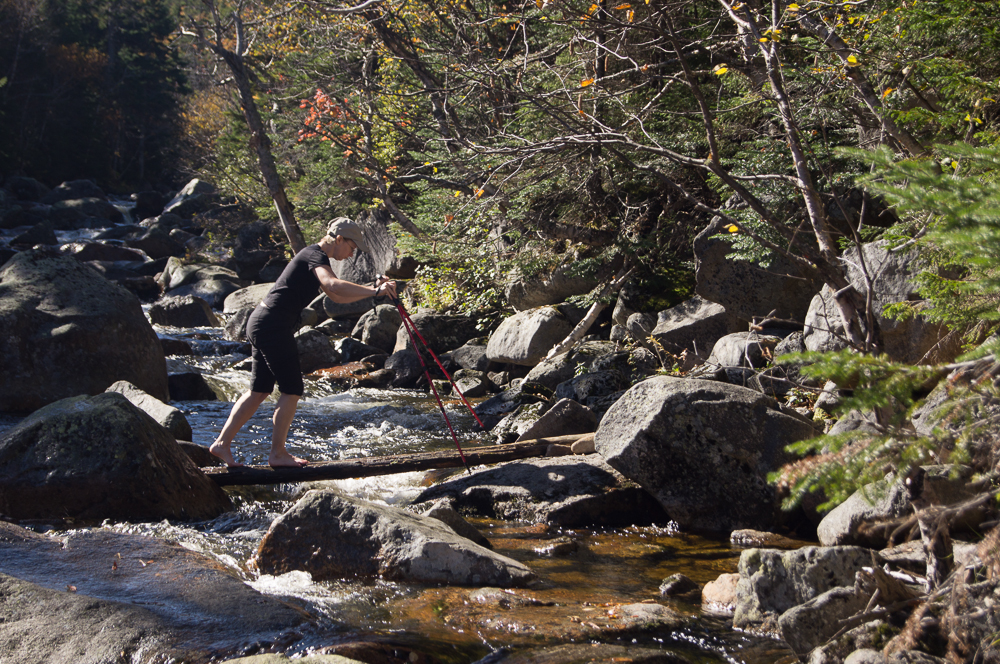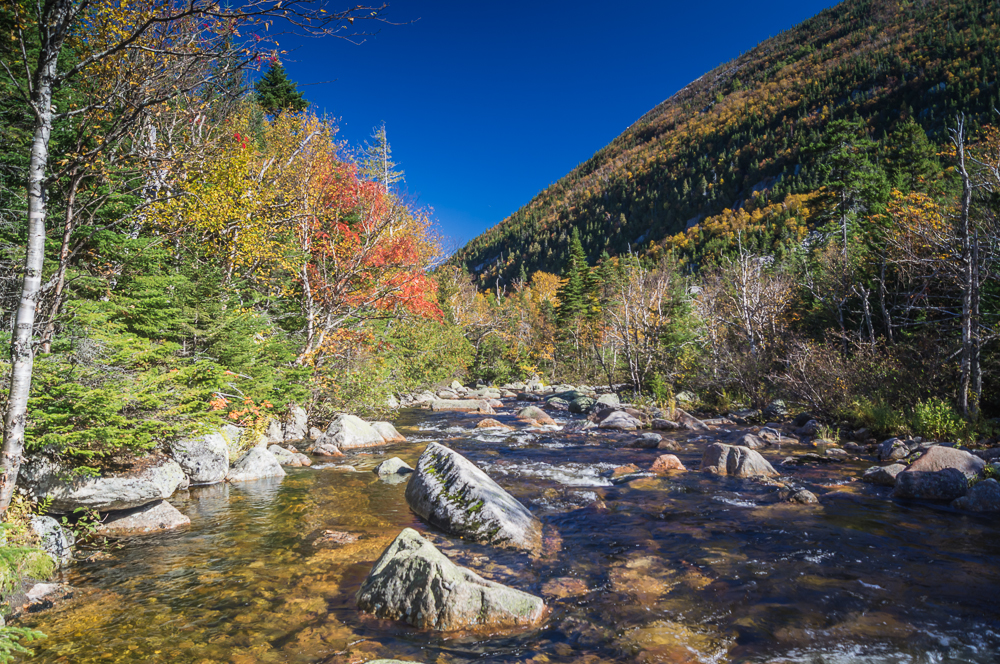 We made it with no mishaps and headed off again into the woods. Shortly after, a stream entered the trail bed once again. This time there was no place to walk and the edges of the trail had no purchase either. We got muddy and wet. We went on like this for a good tenth of a mile before the stream finally took off away from the trail. From this point on the trail kept getting more level and wider as we went along. We met our first and only person of the day hiking toward Davis pond. We discussed with her how bad the trail was and she told us the she did the trail from the top of the mountain two years ago. She dislocated her shoulder when falling on the way down and had surgery on her rotator cuff shortly after. She's lucky that she was still mobile. As I said before, this is no place that you want to get hurt.
We had an uneventful hike into Russell pond. The trail was a pleasure compared to what we had traveled the day before. When we arrived, we saw no one around. It didn't look quite as I remembered, but we hadn't been here since 2004, so things were bound to look different. Russell pond has 5 or 6 shelters and a few tent platforms. It is open to fishing and there are canoes for rent. We once again found our shelter and unpacked. We gathered some fallen wood as we could have a fire here. We had lunch of pitas again and tried to nap, but we weren't very successful. We also ran a line to hang all of our wet clothes that we had washed out the day before.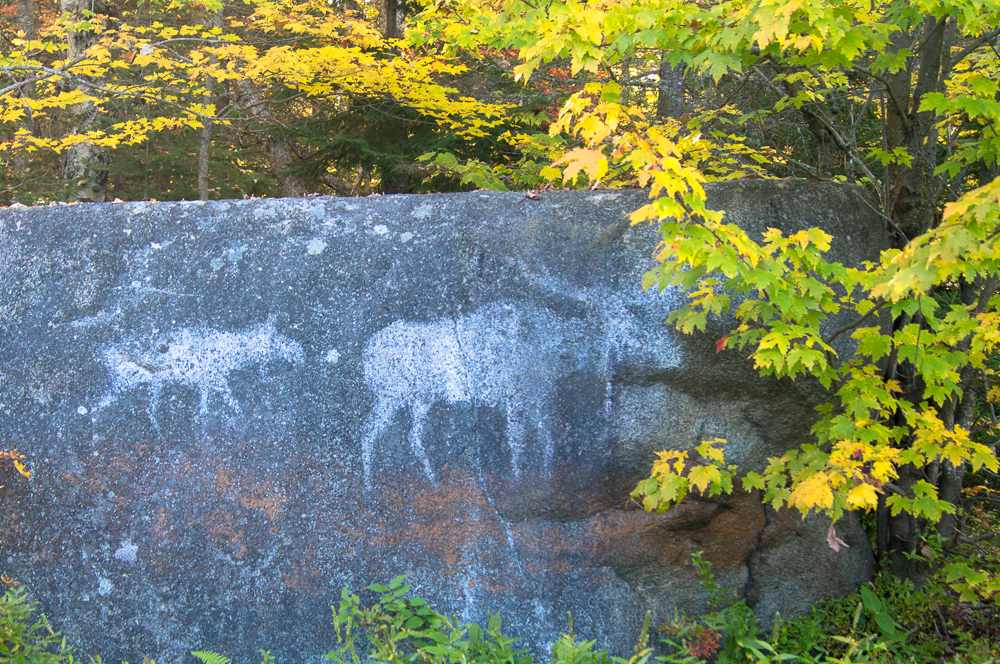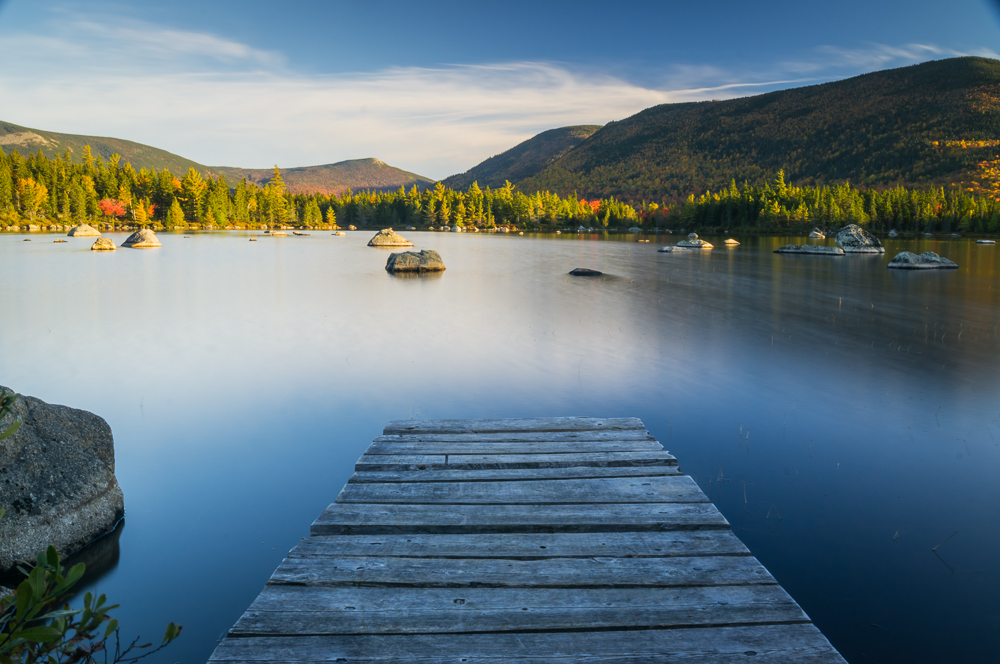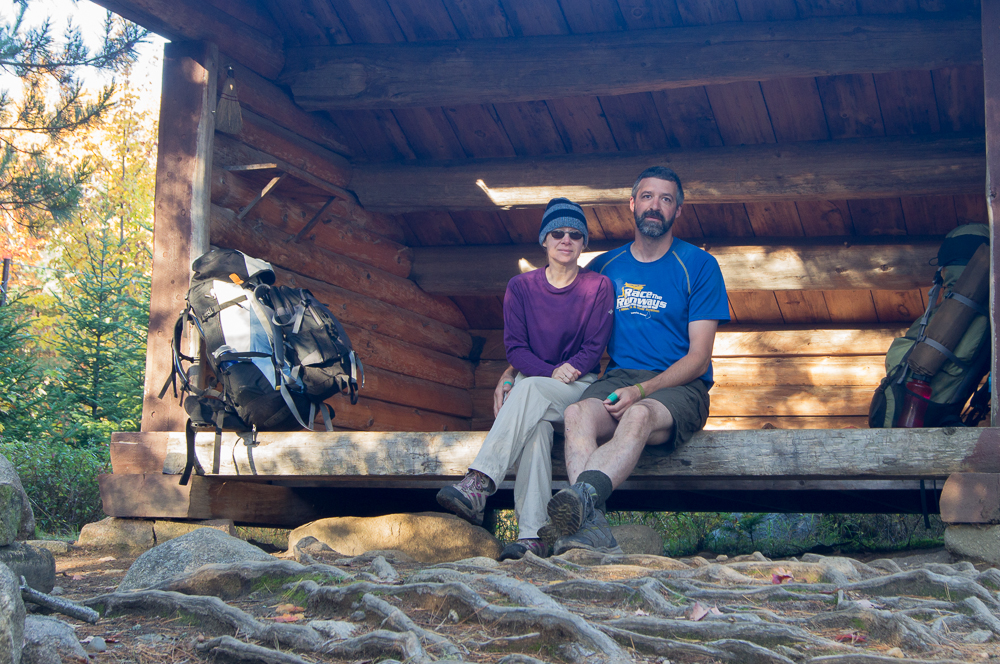 We hung out until dusk and headed for the pond to take sunset photos. While on the dock we saw a guy catch a brook trout. There were trout rising all around the lake. I had contemplated packing my fly fishing gear for this part of the trip, but since I had all of my camera gear, I didn't want to add any more weight.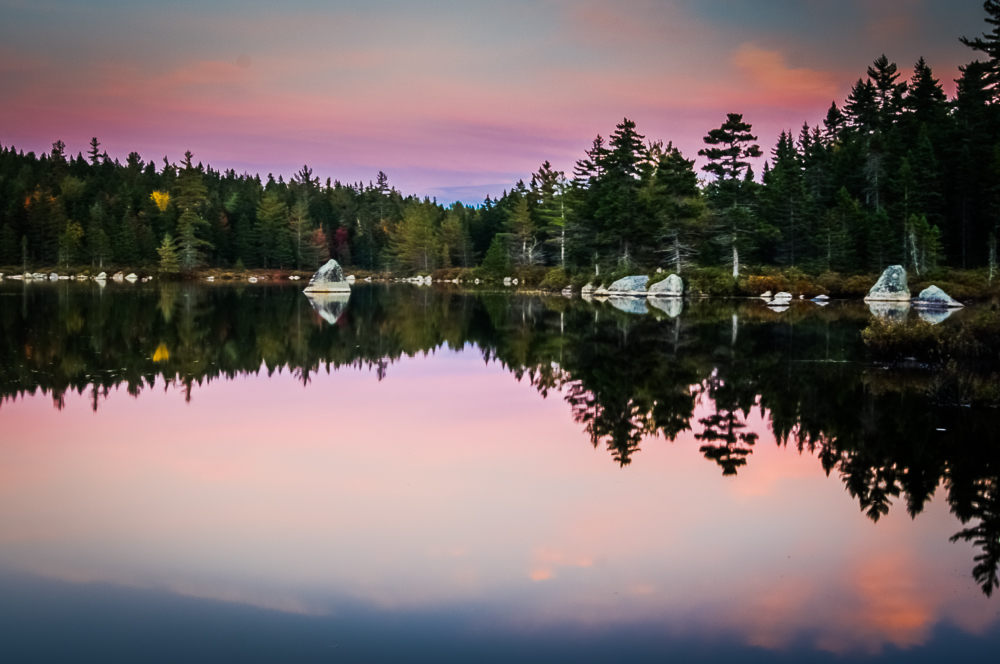 We ate a dinner of sweet Thai chili noodles and chicken later than usual as I planned on staying up to have a fire after dark. We started up the fire and drank the last of our Chartreuse while being mesmerized by the flames. After an hour or so by the fire, we were ready for bed.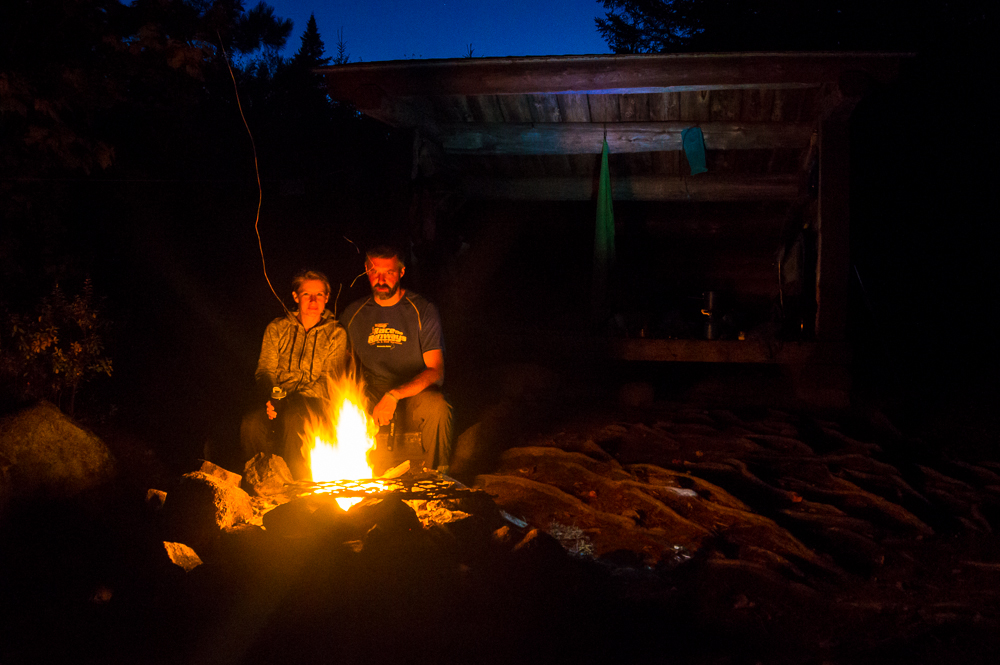 Roaring Brook – Day 4
Our last day I got up earlier than usual and prepared breakfast while Tammy was still tucked in her sleeping bag. We once again headed out right after breakfast while there was still a chill in the air. We came upon the Wassataquoik once again and had to cross. This time Tammy carried here own gear and did a great job not getting anything wet!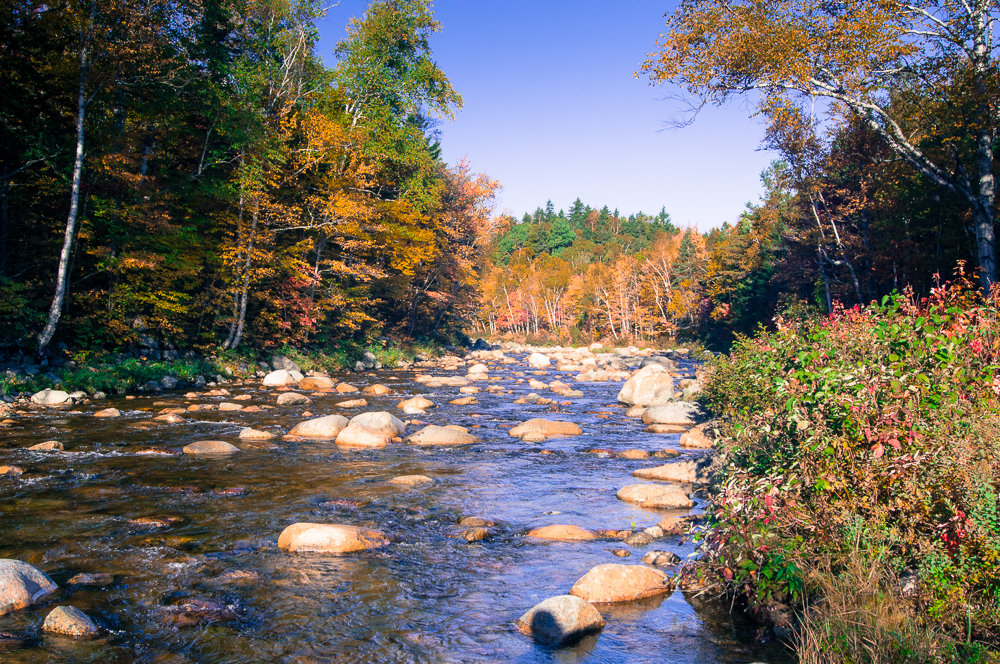 The entire length of trail was a pleasure; relatively flat, wide, dry, and few obstacles. We reached a cut off trail heading to Sandy Stream pond, which I wanted to take as I had never been there and it would only add .3 mile to the hike. We have a painting on our wall at home by Stanley Keirstead that is looking toward Katahdin from Sandy Stream pond. This side of the Sandy Stream pond trail looks relatively unused and is very bouldery (word?), but still not bad. We reached the picturesque pond where I took a few photos. I also found that there is a trail to nearby South Turner mountain which looks directly into the South Basin and the Chimney Pond area. Looks like a great place to be during the time of year that the sun rises behind the mountain!


Moving on toward Roaring Brook, this side of the trail looks much more used with many bog bridges and wide, packed paths. We arrived back at Roaring Brook and unloaded all our gear into the car for the long drive home.
Trip Notes
We've been to Chimney Pond many times and I continue to love this place, although it is frequented by too many people nowadays. It's the go to place on Katahdin for those wanting to embrace the challenge of crossing the knife edge between Pamola and Baxter peaks. You can reach the summit peaks and knife edge from other locations, but this is the best and most picturesque option.
We've been to Russell Pond a couple of times and I really like this spot. You don't get the majestic peak experience, but you get superb peak views from the trails to Russell and there is some really great fishing here.
And Davis Pond…. This is an absolutely wonderful spot with majestic views and best of all… solitude, but the trails are a challenge at best. I am so glad I finally got to experience this spot, but am not sure if I will ever go back.
I would very much like to come back for a trip including the Wassataquoik Stream shelter, Grand Falls, Russell Pond, Wassataquoik Lake, and Green Falls. Something to look forward to.